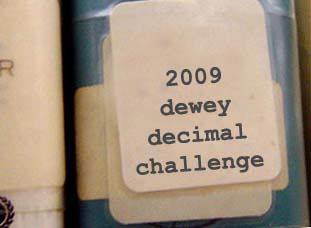 I know next to nothing about Philosophy, so when it came time to approach the "100s" century (Philosophy and Psychology) for the Dewey Decimal Challenge, I decided to read something from the half more challenging for me (Philosophy). This is about learning, after all, right? But between packing and moving, I felt the need to read something light and easily accessible this month. Is anything about philosophy light and accessible?
I found Plato and a Platypus Walk into a Bar by Thomas Cathcart and Daniel Klein to be such a light approach. The subtitle is "Understanding philosophy through jokes." How can one go wrong by reading a book of jokes? While I appreciated the light-hearted approach (especially this month), I unfortunately thought there were too many "jokes" and too few concrete details about philosophy. I enjoyed my short perusal of Plato and Platypus, but I don't feel I have a much greater understanding of philosophy having read it.
Each chapter focuses on a field of philosophy, including Metaphysics, Logic, Epistemology, Ethics, Philosophy of Religion, Existentialism, Philosophy of Language, Social and Political Philosophy, Relativity, and Meta-Philosophy. Each chapter had a brief overview of the key thinkers and then a plethora of jokes that supposedly illustrate the subject. The jokes were amusing, and the importance of all the concepts was clarified to me. Unfortunately, a week after reading it, I can't recall more than the basic differences between the philosophies. (I wrote this post two weeks ago; it has now been three weeks since I read it.)
A few other things about the "playfulness" of this book bothered me. For example, when discussing the great philosophers, the authors called them by nicknames, trying to be funny. But now I can't remember the last names of those key thinkers. Calling them by different names made them less memorable to me. Also, the jokes were predominately sexual, which I'm sure helps make them amusing (not so much to me, but maybe other people) but became rather annoying by the end of the short 188-page book. Are those really the only jokes that can illustrate their points?
I suppose Plato and Platypus partially achieved its purpose. That is, it illustrated philosophy through jokes. Whether or not it helps one to understand philosophy is another question: I personally felt that the grand concepts of philosophy introduced to me between its covers are still just barely out of reach of my understanding.
Can you recommend a basic philosophy book that is informative yet easy to approach?
This book also counts for the Dewey's Books Reading Challenge.

Other Reviews:
The Hidden Side of a Leaf
Kay's Bookshelf
If you have reviewed Plato and Platypus on your site, leave a link in the comments and I'll include it here.